Captain Hubley's Cabin
Your remote seaside getaway
Point Prim, Prince Edward Island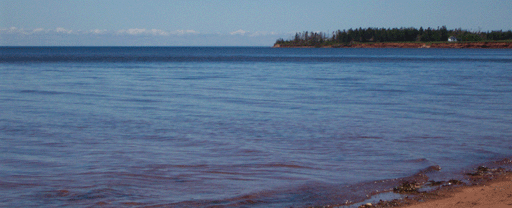 The Hubley family welcomes you to our summer getaway cabin. We hope you will enjoy this beautiful setting on Point Prim, Prince Edward Island as much as we have for the last 30 years. We know you will agree that it is one of the loveliest places you will visit.
Captain Hubley's Cabin is located on 13 acres of undeveloped land. The cabin is 150 feet to our beach on the Northumberland Strait shore. On most days, one can see Nova Scotia from the cabin deck. Point Prim Lighthouse is a short walk down the beach. While walking you may notice osprey, bald eagles, and herons that nest near by. You may also spot a seal or two swimming in the sea or sunning them selves on the beach.
We highly recommend that you watch at least one sunset from the Point Prim Lighthouse, it can be spectacular.
Local Attractions
Day trip to Green Gables
Take the island lighthouse tour and visit all 50
Chowder House Restaurant
Selkirk Provincial Park (The park has the closest Laundromat.)
Belfast Highland Greens Golf Course(9-hole)
30-minute drive to Brudenell River, Dundarave, and the Links at Crowbush Cove: a few of the finest 18-hole golf courses in Canada.
Cooper's Grocery Store (ask for the catch of the day for fresh local fish)
Historic Point Prim Lighthouse, the island's oldest round lighthouse
30-minute drive to Charlottetown - Major shopping district, lobster dinners
20-minute drive to Montague for seal watching and deep sea fishing